In this fun and expansive summer course, students will uncover the mechanics of poetry and learn to analyze and construct advanced verse with technical skill and creativity.
Live instructors guide students (ages 11–14) as they read and analyze a selection of famous poems, and then apply what they've discovered to craft stellar verses in a lively poetry derby.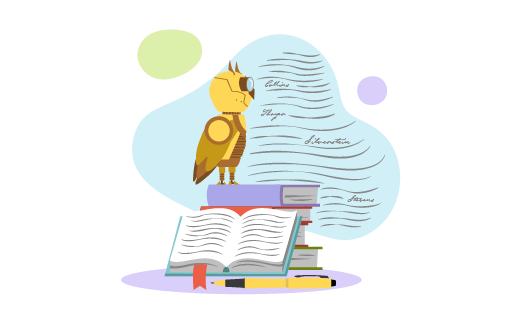 Rhyme-bot Derby: Language Craft and Analysis

Length
2 weeks or 4 weeks

Daily In-Class Time
3 hours or 1.5 hours

Tuition
$795.00 (~$27 per hour)

Skills
Poem structure, stanzas, meter, rhythm, drafting and revision
View Schedule
Choose the right level

This course is recommended for students entering Grade 6 or 7. We recommend that students enroll in Language Arts courses at grade level.

Curriculum

Aspiring poets and programmers unite! In this fun, expansive course, students learn to approach poetry as engineers, analyzing the "code" that underpins great poetry and then applying their new skills to tinker with their very own poetry bots. Students build their comprehension and close-reading skills by engaging with a selection of famous poems, from classical sonnets to modern spoken word. Along the way, they prepare to put their poetic acumen to the test in a lively derby.

Students who took our Poetry and Analysis camp prior to summer 2023 will see repeated material in this class. Reach out to us at virtual@aopsacademy.org for help on finding the right camp!

Students must purchase the required book(s) before the start of the course.

Format

Our instructors hold classes virtually, in a small-sized (10-16 students) videoconferencing classroom. With a small class size, teachers can give individualized attention to each student, providing real-time verbal and written feedback and supporting students' growth as writers.

Homework

Our Language Arts summer courses do not include homework. Students receive frequent feedback on their writing and present their work throughout the course.


Drop and refund policies

If you drop a summer course before the start of your first class session, we'll issue a full refund for the course tuition. No refunds will be issued for withdrawing from a summer course after the start of your first class session. We do not accept Language Arts book returns, since they are purchased from a third party.


Schedule

Our summer course offerings meet five days a week, Monday through Friday. We offer this course in two timing formats. Both cover the same course material.


The two-week course meets for 3 hours each day.
The four-week course meets for 1.5 hours each day.
Schedule
Course Fee: $795.00 (~$27 per hour)
US Eastern Time
US Central Time
US Mountain Time
US Pacific Time
We do not have any open sections right now, but you can un-check the 'Only show open classes' field to join a waitlist.
Please check back soon for new sections to be added, and
join our mailing list
to hear about new offerings!
12:30 pm - 3:30 pm ET
11:30 am - 2:30 pm CT
10:30 am - 1:30 pm MT
9:30 am - 12:30 pm PT
9:30 am - 11:00 am ET
8:30 am - 10:00 am CT
7:30 am - 9:00 am MT
6:30 am - 8:00 am PT
3
Please note there are no classes: May 27 - May 29 | July 1 - July 7 | September 2 - September 4 | November 20 - November 26 | December 22 - January 4