In this fast-paced summer course, students take the stand as they put their critical thinking and analysis skills into practice with a mock trial.
Live instructors help students (ages 12–15) build critical reading, writing, and public speaking skills as they participate in a simulated court case based on the class novel.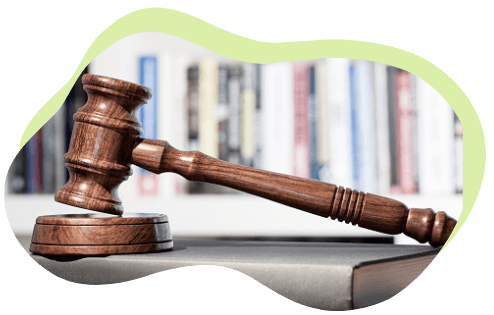 Mock Trial: Persuasive Speaking

Length
2 weeks or 4 weeks

Daily In-Class Time
3 hours or 1.5 hours

Tuition
$795.00 (~$27 per hour)

Skills
Evidence-based writing, persuasive writing, analytical reading and writing
View Schedule
Choose the right level

This course is recommended for students entering Grade 7 or 8. We recommend that students enroll in Language Arts courses at grade level.

Curriculum

This rigorous summer program combines the excitement of the courtroom with the fast pace of an advanced language arts course. Students develop their critical thinking and analytical skills as they read Nothing But the Truth by Avi, a Newbery Honor Book.

Then, students work together in legal teams to tackle a civil court case based on the story events, participating in every stage of the legal process. Persuasive writing takes the stand as students craft clever questions and compelling closing arguments to sway the jury in their favor. For the final class, students will have their day in court and put their public speaking skills to the test as they role-play the trial and await the jury's verdict.

Students must purchase the required book(s) before the start of the course.

Format

Our instructors hold classes virtually, in a small-sized (10-16 students) videoconferencing classroom. With a small class size, teachers can give individualized attention to each student, providing real-time verbal and written feedback and supporting students' growth as writers.

Homework

Our Language Arts summer courses do not include homework. Students receive frequent feedback on their writing and present their work throughout the course.


Drop and refund policies

If you drop a summer course before the start of your first class session, we'll issue a full refund for the course tuition. No refunds will be issued for withdrawing from a summer course after the start of your first class session. We do not accept Language Arts book returns, since they are purchased from a third party.


Schedule

Our summer course offerings meet five days a week, Monday through Friday. We offer this course in two timing formats. Both cover the same course material.


The two-week course meets for 3 hours each day.
The four-week course meets for 1.5 hours each day.
Schedule
Course Fee: $795.00 (~$27 per hour)
US Eastern Time
US Central Time
US Mountain Time
US Pacific Time
We do not have any open sections right now, but you can un-check the 'Only show open classes' field to join a waitlist.
Please check back soon for new sections to be added, and
join our mailing list
to hear about new offerings!
12:30 pm - 3:30 pm ET
11:30 am - 2:30 pm CT
10:30 am - 1:30 pm MT
9:30 am - 12:30 pm PT
9:30 am - 11:00 am ET
8:30 am - 10:00 am CT
7:30 am - 9:00 am MT
6:30 am - 8:00 am PT
4:00 pm - 5:30 pm ET
3:00 pm - 4:30 pm CT
2:00 pm - 3:30 pm MT
1:00 pm - 2:30 pm PT
12:30 pm - 3:30 pm ET
11:30 am - 2:30 pm CT
10:30 am - 1:30 pm MT
9:30 am - 12:30 pm PT
3
Please note there are no classes: May 27 - May 29 | July 1 - July 7 | September 2 - September 4 | November 20 - November 26 | December 22 - January 4